Read this update to learn about the most important new features and improvements to the Online Video Platform. See the full release notes here.
Context for projects
Sometimes you need multiple variations of one interactive video. This was already possible by duplicating interactive projects to then make changes. Now it's even easier by adding context to interactive projects.
Context allows for the correct variables to be automatically shown depending on the situation in which the video is played. For example, if the context is X, show button A. If the context is Y, show button B.
Using context in an interactive video is helpful in multiple situations. For example:
One interactive video is used for different labels and each version needs their own separate branding.

An interactive video that has to be available in several languages and therefore requires a translation of the buttons.

One interactive video that starts off the same for every viewer, but with small changes in the branching.
Context for Projects not only speeds up the work process, because there are less manual actions needed, but more importantly it keeps projects organized and shows overarching analytics. This way, you don't only see the metrics for the project as a whole, but also for each individual context.
Trimming videos
Trim your videos down to the exact frame directly in the platform. Simply navigate to the desired media clip and click on "Trim" in the Resources tab. For example, quickly slice  longer form videos into multiple, short, snackable clips, or trim off a slightly too long fade out at the end. Trimming allows two options: to replace an existing video with a shorter version or to save the trimmed piece as a new clip.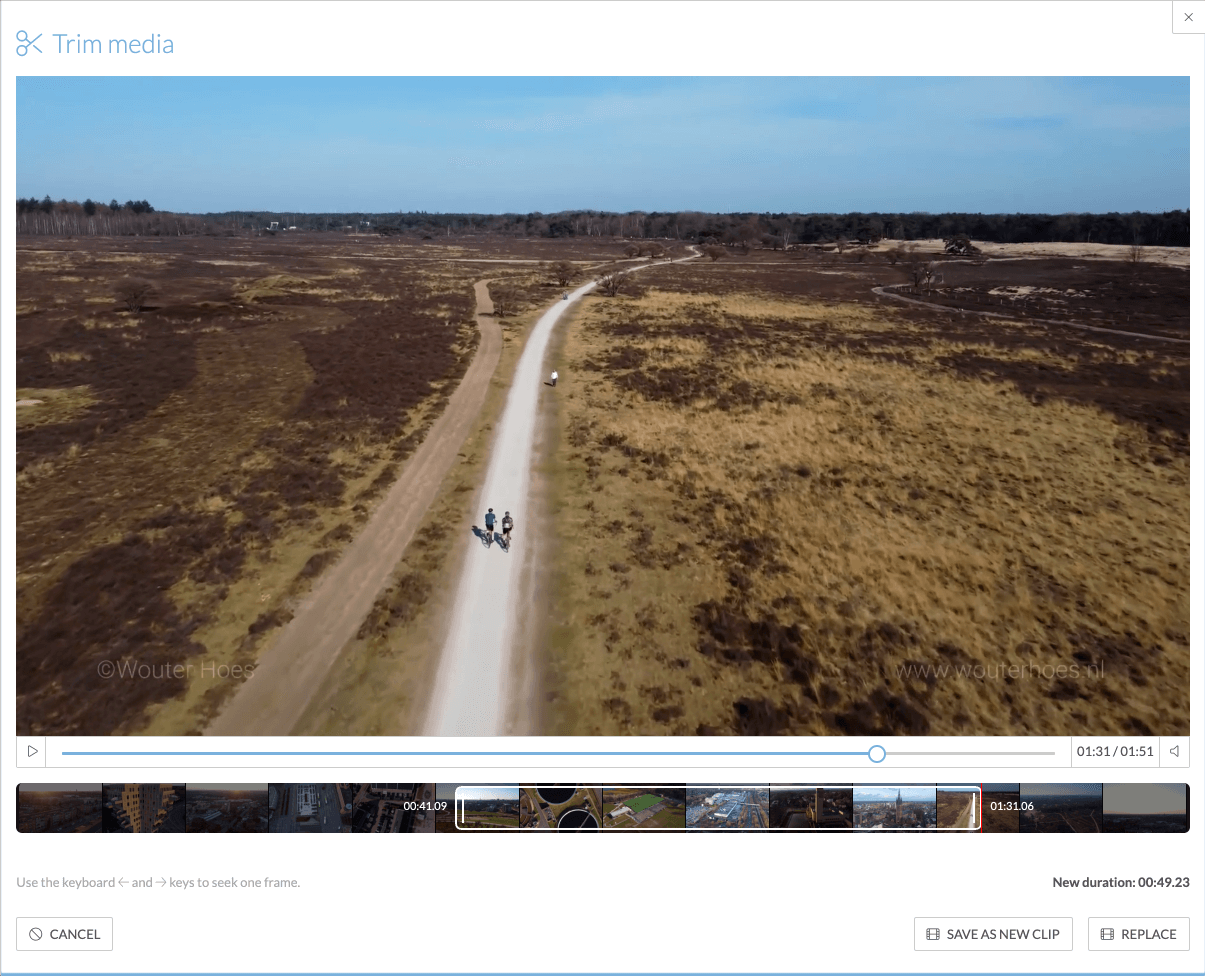 Channels
The Channels feature has been updated. It's now possible to add both media clips and projects to your playlists and consequently to your Channels. There's also the option to use individual videos to build up your Channel, without it having to be a playlist. This can be a media clip, but also a project or livestream. For example, use a livestream as a central point to build your Channel around.
Preview page playout
The Interactive Studio has a new preview page for interactive projects. This page allows you to set the playout and lets you reset the interactivity to the default. This makes it easier to test whether interactive videos work properly. It also offers a practical way to quickly test a video in various playouts.
React notifications
When using React to collect feedback for your videos, you can now sign up for email notifications to stay informed about the latest developments. You'll receive a notification when someone else has left a comment or when someone has resolved your comment.