The pharmaceutical market is always evolving and using video as a strategic part of communication is becoming increasingly important. In our blog series we will keep you informed about the latest developments within this industry. You can also download a free copy of our eBook to learn more about the use of video in the pharmaceutical market.
An appointment at the doctor's office often brings on tension, nerves and high emotions. One in three patients reports that they don't remember conversations with their doctor very well, if at all. This is problematic, because during these conversations doctors share important information about the patients' condition, possible treatments and medication, and other personal health tips.
Patients who are well informed about their illness are generally better able to take care of themselves, feel more involved and in control, and are more satisfied with the care they receive. It's clear that educating patients is a critical part of modern healthcare. To achieve this, there's a need for a communication tool that excels at effectively conveying information and engaging the viewer: video.
The pharmaceutical industry has used online pharma video to educate patients for some time now. To ensure that patients are also actively involved in processing this information, more and more pharmaceutical organizations are switching to the use of interactive video. Let's look at a case to see why this works so well.
Case: living with diabetes
A well-known Dutch pharmaceutical company, which specializes in diabetes, uses interactive video to tell patients more about life with this illness.
The pharma video below is in Dutch.
What is interactive video?
Interactive video is a dynamic form of video that responds to actions the viewer makes. Viewers can for example click inside a video, make choices about the visible content and fill out forms. Read on about interactive video.
How well people remember information is captured in the Cone of Experience model. It shows that people remember about 10% of what they read, compared to 50% of what they see and hear. It also proves that people remember more from what they do than from what they read or see.
In the interactive video about diabetes, patients get the information in a few different ways: by reading, watching, listening and doing. The viewer must click on the topics they want to view and answer the questions that appear on the screen. In this way, patients are actively involved in the information presented to them.
Pharma video for more relevance
There's a lot to know about living with type 2 diabetes. In the interactive video, a large amount of information is divided into different chapters. This way, after the general introduction, patients can decide for themselves how in-depth they want to go and what they want to know more about. Since the patient decides which topics are relevant to them, they can decide to get information ranging from medicine use or is everything there is to know about the effect diabetes has on the body.
Once the viewer has watched all the chapters or states that they know enough, they're asked for their feedback on how they experienced the video. No less than 89% of viewers indicated that the pharma video provided relevant information.
In addition to various chapters, there are also overlays in the video that provide further explanation. Overlays are buttons in the video that the viewer can click on which then provide additional information. For example, the video contains a button with an "i" that explains more about what a pancreas is and what it does. These buttons make it easy to explain difficult medical terms without prolonging the video.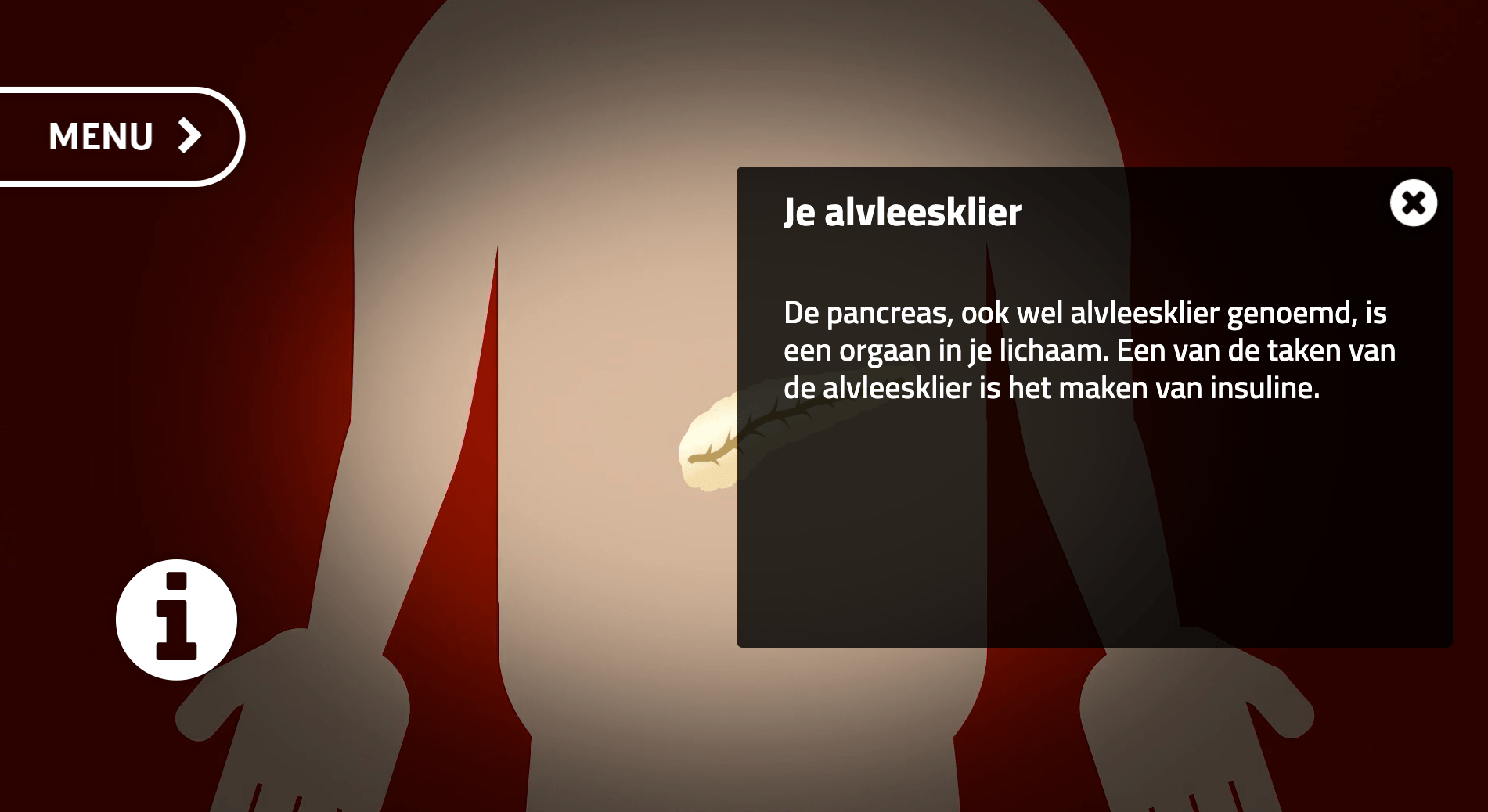 More efficient conversation between doctor and patient
The patient has access to the interactive video prior to the doctor's appointment. In the pharma video, tick marks are used to keep track of which chapters have already been viewed. This way, the patient knows whether they've seen all the relevant information.
By watching the video beforehand, all general information is already covered and patients can write down any specific questions they want to ask the doctor. This leaves more room for the patients' personal situation during the appointment. Instead of a general explanation, it's a real conversation between patient and doctor, in which the doctor can fully reassure the patient and the patient has all the tools to take good care of themselves.
The interactive video is still available after the appointment as a reference so that the patient always has all the information at hand in case they want, to take another look at the chapter on medication use, for example.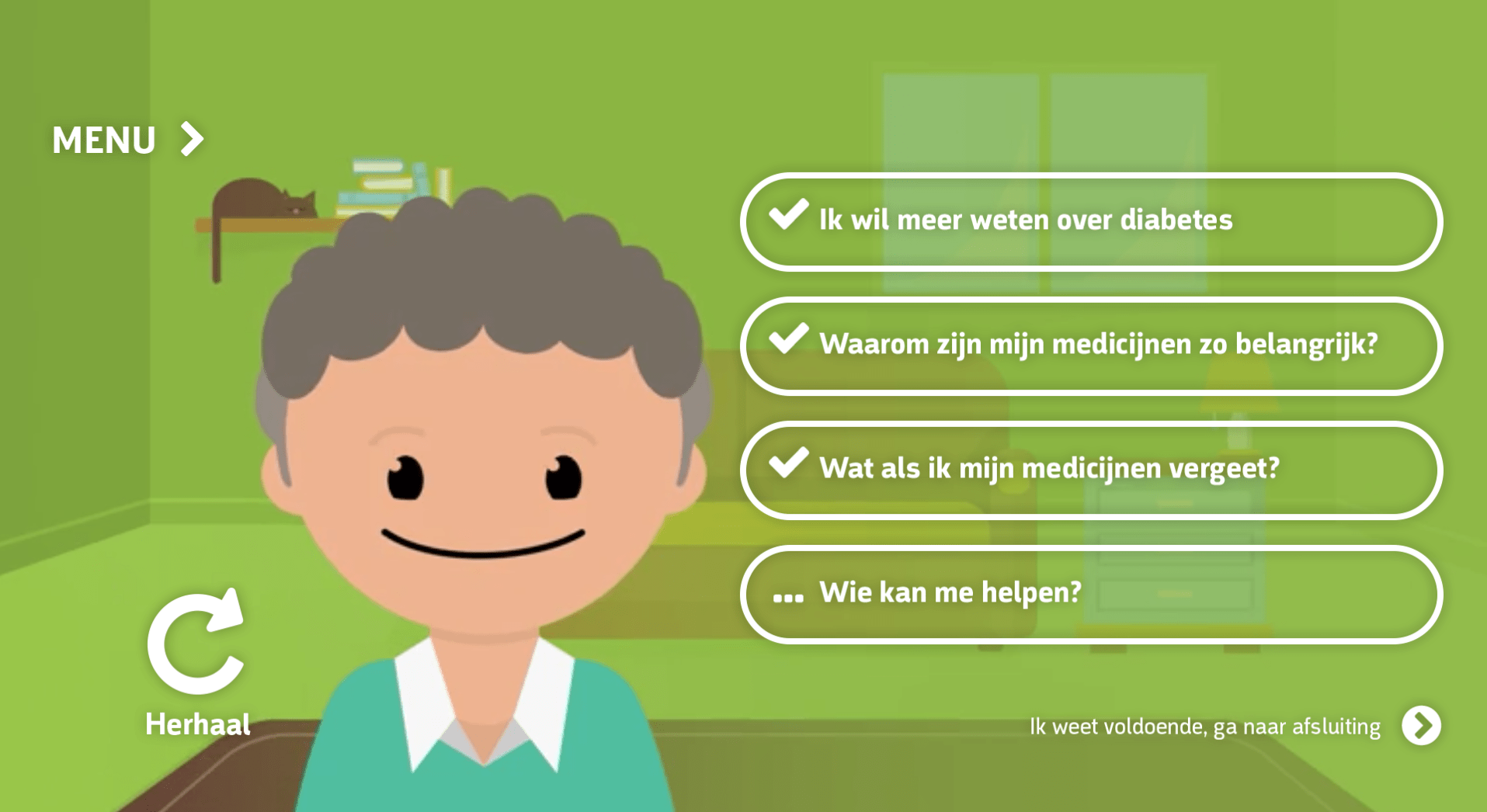 More information on pharma video
Interactive video helps to clearly convey information and engage the viewer, so that the patient is fully informed and better able to take care of themselves. If you're interested in a case study, you can contact us at hello@bluebillywig.com.
Find out how our platform can support your video strategy
Fill out the form and one of our video experts will happily show you around our platform and answer any questions you might have.