Kom je tijdens het checken van je video een fout in de ondertiteling tegen? Klopt er een tijdcode niet? Of heb je een stuk ondertiteling over het hoofd gezien en wil je dat nog even toevoegen? Vanaf nu kun je in het Online Video Platform direct bestaande ondertiteling aanpassen en is er ook de optie om nieuwe ondertiteling te creëren en toe te voegen.
Ondertiteling en closed captions toevoegen aan je video's is belangrijker dan ooit. Zo moeten overheidswebsites zich per september 2020 houden aan wetten en regels voor toegankelijkheid, kijken veel mensen video's via social media zonder geluid en wordt er steeds meer internationale content gekeken. Kortom, toegankelijke video's zorgen voor een optimale gebruikservaring voor al je kijkers.
Je vindt de Subtitle editor in de Languages tab van de Media clips. Hier kun direct en gemakkelijk ondertiteling toevoegen en bewerken. De editor controleert ook direct of alles klopt. Staat er bijvoorbeeld een fout in de tijdcode, dan geeft het bestand een error. Zo weet je zeker dat je een volledig correct bestand upload.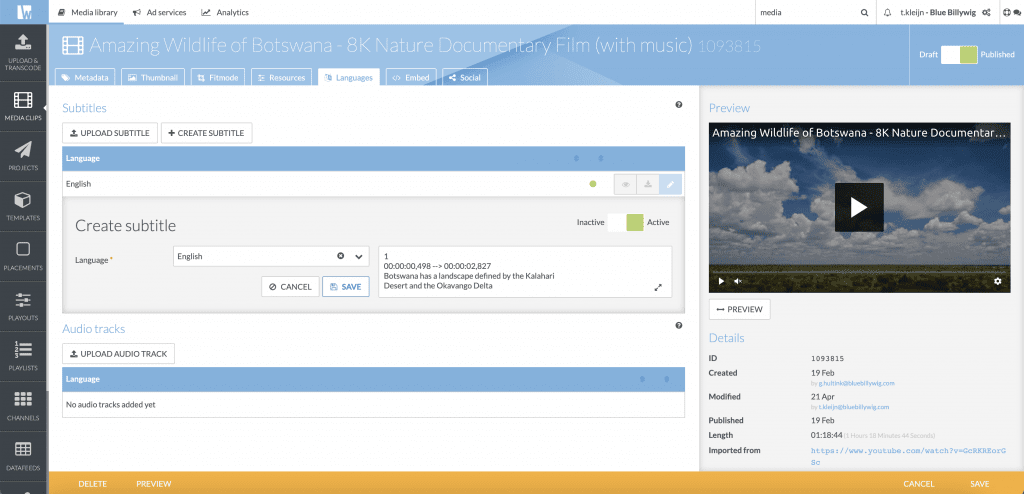 Ook eenvoudig toegankelijke video's aan jouw kijkers aanbieden? Neem contact op met één van onze video consultants. Of werk je al met ons samen en heb je hulp nodig bij het toevoegen van ondertiteling? Neem dan contact op met support.