Analytics zijn een belangrijke schakel zijn in een succesvolle video strategie. Daarom biedt ons platform een uitgebreid video analytics dashboard waarmee je gemakkelijk inzicht krijgt in de prestaties van je video content. Dit jaar gaan we aan de slag om deze analytics nog verder te verbeteren.
Het eerste dashboard staat net live. In deze update lees je meer over de veranderingen die we doorvoeren, welke voordelen je hieruit haalt en wat je de komende maanden nog meer kunt verwachten.
Wat verandert er aan de analytics?
De snelheid
Vanaf nu kun je nog sneller bij je data. De implementatie van een nieuwe API zorgt voor betere caching en een efficiëntere manier van data ophalen. Je krijgt op deze manier direct inzicht in je analytics, zonder te wachten tot het hele dashboard is geladen.
De gebruikerservaring
De nieuwe structuur van de dashboards is meer in lijn met die van andere bekende platforms, zoals Google Analytics, wat zorgt voor meer duidelijkheid en gebruiksgemak. Het intuïtieve design legt meer de nadruk op de functies die je het meeste gebruikt, zoals het filteren van je metrics en het selecteren van de datum, wat zorgt voor een betere gebruikerservaring.
De schaalbaarheid
In het platform verwerken we dagelijks grote hoeveelheden data. Om dit nog efficiënter aan te pakken, gaan we flexibeler resources toekennen. Dit betekent dat, of een publicatie nu veel of weinig data heeft, je er altijd zeker van kunt zijn dat je data on-demand beschikbaar is.
De toekomstbestendigheid
Door het modulaire design zijn de nieuwe dashboards toekomstbestendiger. Hierdoor kunnen we namelijk makkelijker updates en verbeteringen doorvoeren.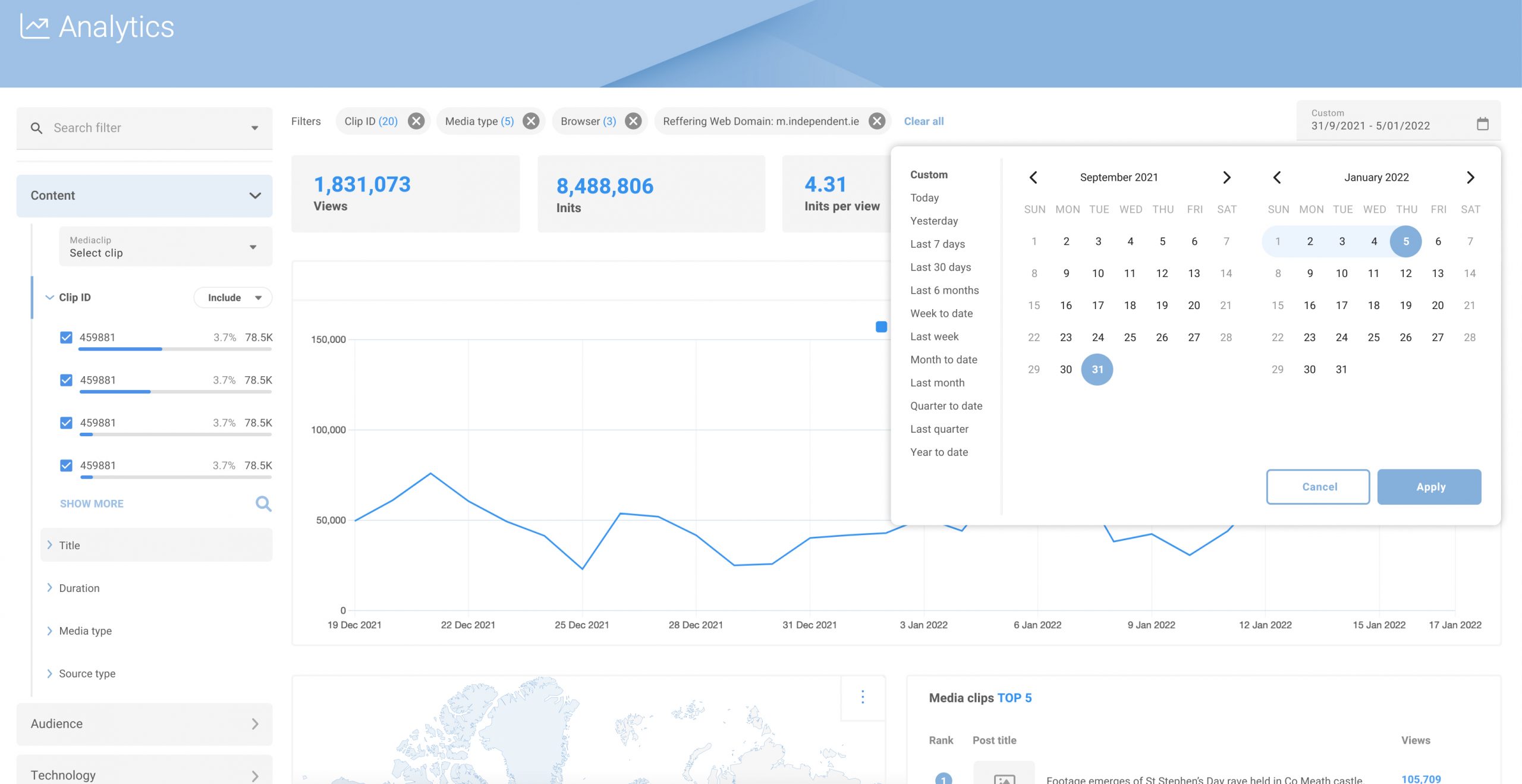 Wanneer zijn de nieuwe dashboards zichtbaar?
Goed nieuws: de eerste updates zijn al beschikbaar. Je vindt ze in het Online Video Platform onder het kopje 'Analytics' bovenin het menu.
Het valt je misschien op dat nog niet alle dashboards zijn geüpdatet. In dit interview met onze product owner Tom lees je meer over waarom dit zo is en krijg je een inkijkje in het ontwikkelingsproces.
In de komende maanden zullen we de andere dashboards lanceren, zoals voor 'Projects' en 'Advertising'. We houden je hier en via onze nieuwsbrief op de hoogte, dus houd de komende updates in de gaten!