Blue Billywig streeft ernaar om haar klanten het beste en meest veelzijdige Online Video Platform in de markt te bieden. Daarom wordt er iedere twee weken een nieuwe versie van het platform gereleased. Waar in het vorige kwartaal de focus nog lag op het verbeteren van de snelheid en efficiëntie van het platform, staat dit kwartaal weer in het teken van nieuwe features die het gebruiksgemak van het platform vergroten.
Roles
Roles zijn in het online video platform heel overzichtelijk. Gebruikers krijgen één van de vier rollen toegewezen: admin, editor, publisher en analyst. Deze rol bepaalt welke rechten de gebruiker heeft. Zo is admin de rol met toegang tot alle functionaliteiten van het platform en geeft de rol analyst slechts toegang tot de analytics in het platform.
Smart snapping in de Interactive Video Studio
Het uitlijnen van interactieve elementen in de Interactive Video Studio is nog gemakkelijker geworden met de toevoeging van smart snapping. Met smart snapping worden interactieve elementen automatisch op de juiste positionering in de video geplaatst.
De smart snapping lijnen geven het midden aan en laten zien hoe elementen ten opzichte van elkaar het beste uitgelijnd kunnen worden. Bijvoorbeeld om te zorgen dat een interactief element exact in het midden wordt geplaatst of op exact dezelfde hoogte staat als andere elementen. Wanneer een interactief element in de buurt van het midden of andere elementen wordt geplaatst, "snapt" deze automatisch op de juiste belijning.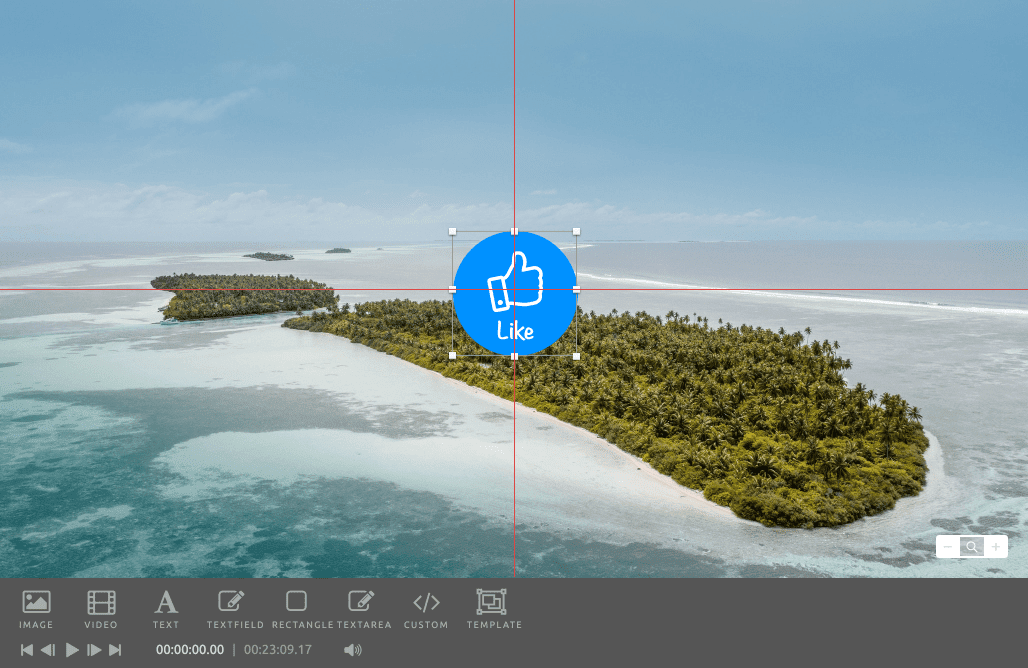 Filteren op "created by" en "updated by"
Het is nu mogelijk om media clips te filteren op "created by" en "updated by". Wanneer er meerdere mensen in dezelfde publicatie werken, kun je deze filters gebruiken om op naam te zoeken van de persoon die een video heeft geüpload of voor het laatst heeft aangepast.
AMP & oEmbed
Er zijn twee nieuwe mogelijkheden om video's te embedden.
AMP staat voor Accelerated Mobile Pages en deze manier van embedden is geschikt voor alle gebruikers die een website draaien in AMP.
oEmbed is geschikt voor alle gebruikers die gebruik maken van bijvoorbeeld WordPress.