The pharmaceutical market is always evolving and using video as a strategic part of communication is becoming increasingly important. In the upcoming blog series we will keep you informed about the latest developments within this industry. You can also download a free copy of our eBook to learn more about the use of video in the pharmaceutical market.
The pharmaceutical industry is constantly evolving with new types of medicines being introduced, new studies being published, and healthcare professionals and patients digitally contacting each other with greater and greater frequency. In order to keep up with this rapid flow of information, it's all the more important for pharmaceutical companies to reach their target audience.
This leads to a challenge. Doctor's and healthcare professionals are a hard target audience to reach as it is, but add COVID-19 in the mix and it's nearly impossible. This also makes it more difficult to reach out to healthcare professionals about new products, medicines and studies.
Traditionally, the pharmaceutical industry has not been at the forefront of digitalization. As a result of COVID-19, the desire to digitalize has gained momentum. That's why various pharmaceutical companies have chosen to use interactive healthcare video to communicate with their target audience in an innovative way. In this blog we share the results and benefits they've realized.
What is interactive video?
Interactive video is a dynamic form of video that responds to actions the viewer makes. Viewers can for example click inside a video, make choices about the visible content and fill out forms. Read on about interactive video.
Let's take a look at three major advantages of interactive healthcare video as experienced by healthcare professionals — Gain unique insights, offer relevant decision points and encourage action.
Gain insight
Video within the pharmaceutical industry is nothing new. What is new is that leveraging interactive video enables healthcare professionals to gain insight into how their target audience looks at video. Linear video has some limitations, like how analytics often don't go beyond the number of views. Crucial information, like which parts of the video are appealing and what subjects are most relevant, is often missed.
With the use of interactive video, pharmaceutical companies do gain this insight. The video is made up of clickable chapters. While watching the video, the healthcare professional can choose what chapters they want to watch. They can, for example, decide whether they want more information about the safety data of the medicine or if they want to take an in-depth look at the product.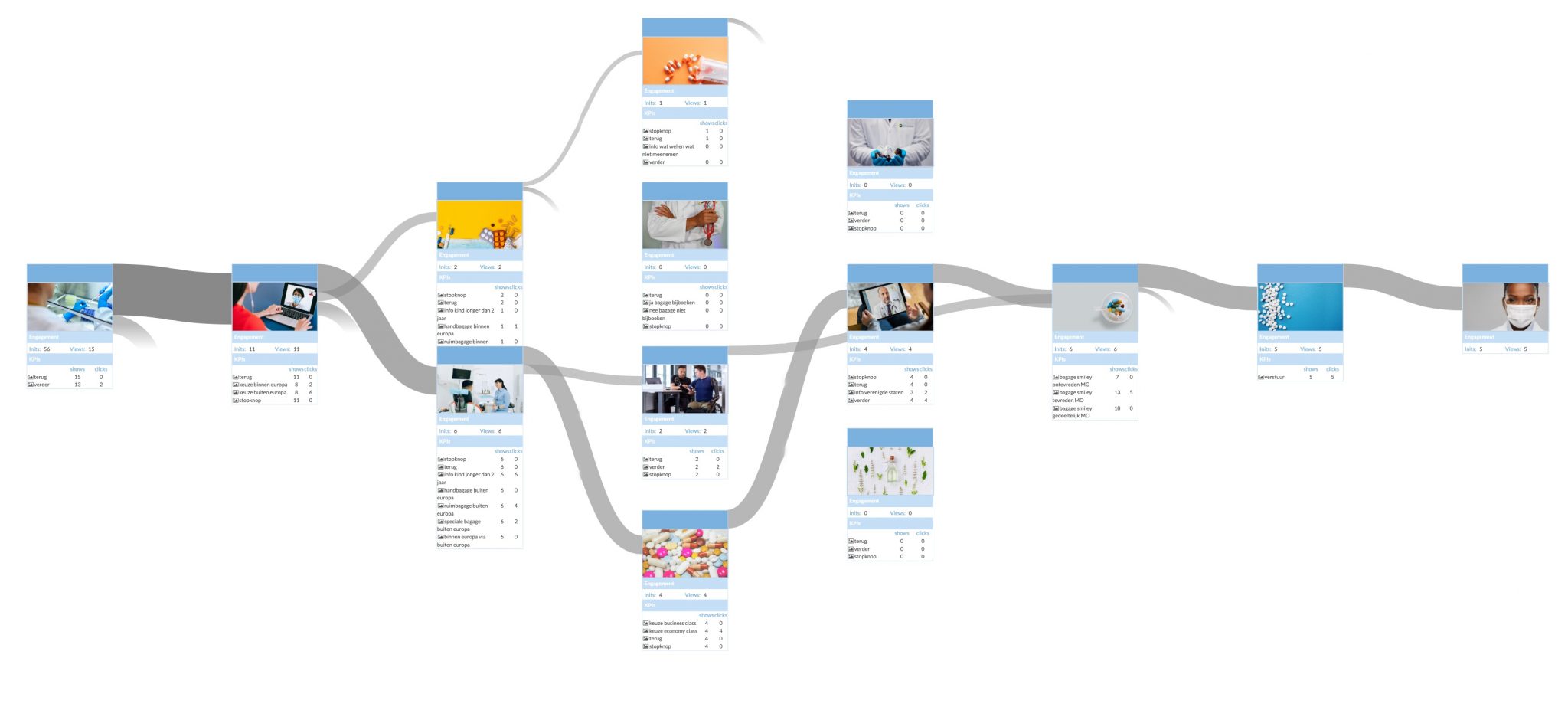 These choices offer the pharmaceutical company insights that are extremely interesting. At a glance, they can see what the most frequently clicked chapters are, this helps them to learn more about their target audience.
These analyses can be integrated with CRM systems such as Veeva, or website analytics such as Google Analytics, in order to gain even more insight into how healthcare videos perform.
Offer relevant decision points
In addition to providing pharmaceutical companies with more insight, interactive video also offers an additional advantage. Time is a scarce resource for many healthcare professionals. By allowing them to choose what they want to watch, they only see content that is relevant and meets their interests.
Offering decision-making moments also increases the user-friendliness and engagement within the healthcare video. Viewers rate the ease of use of interactive video with an 8.2 compared to a 6.1 for linear video.
Encourage action
Pharmaceuticals often use interactive video to achieve marketing-driven objectives. These objectives range from making an appointment to collecting data, and from increasing engagement to asking for feedback.
Many key account managers experience that making appointments is particularly difficult in the current climate. All the more impressive are the results achieved with interactive video. In an A/B test in which text-only e-mails and e-mails containing a video were sent, the number of appointments increased by no less than 200% with the group that received the e-mail with a video.
Below is an example of an interactive menu for a video for a product launch in which the viewer has the possibility to make an appointment.
Asking for feedback is also a recurring objective. Within an interactive video, the viewer can score a video or even ask for open feedback.
Based on the feedback, the pharmaceutical company can not only gain insight into how their target audience rates the current video, but open feedback also allows them to gain insight into any new topics that may be interesting for a next video or conversation.
Asking for feedback within interactive video results in a 30% increase, compared to feedback for a linear video. On average, 75% of viewers give a positive response after watching an interactive video.
More information on healthcare video
The pharmaceutical industry is adapting and developing at a rapid pace. Within these developments, interactive healthcare video offers the opportunity to be relevant and to be innovative, especially in these uncertain times. Don't hesitate to reach out to us at hello@bluebillywig.com for more information.
Find out how our platform can support your video strategy
Fill out the form and one of our video experts will happily show you around our platform and answer any questions you might have.