Getting feedback from the people that buy your product or use your services is very valuable, but how do you ask for their opinion or a review without it feeling intrusive?
Our customer care videos let viewers answer their own questions. Yet, you still like to know how you are doing in terms of service. So, time to start asking your own questions.
This blog lays out all the different options to start asking for feedback and reviews in your interactive videos.
On a scale of…
A digit is an easy way for viewers to express how they feel about your video content. For example, whether the service they received was good or bad.
As an example, you can add a numerical scale at the end of your video. With 1 being poor service and 10 being excellent service. Or you can swap the digits for something more visual, such as stars.
The advantage of a numerical scale is that it is clear and easy to measure. It provides you with clear numbers that actually say something. For example, you can let the world know that people appreciate your video with an 8 out of 10.

However, digits are nuanced and difficult to interpret. The difference between a 1 and a 10 is as clear as day. But what makes the difference between a 7 or an 8? A digit is quantitative and says nothing about the reason behind the grade that's been given. Yet, it is valuable to know what works or how you can improve.
Satisfaction score
You have probably seen them in-store: buttons that allow you to rate your visit to the store. The same can be done in an online video. You can add clickable buttons that say 'satisfied' or 'dissatisfied'. Make it more visual by swapping the words with smileys instead of words, as Vliegtickets did in their videos.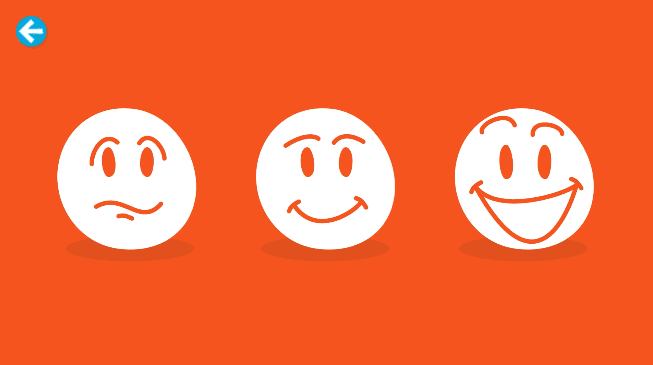 A satisfaction score is a quick way to get feedback. It is as simple as the click of a button. This gives you a nice satisfaction ratio that you can communicate to future customers.
Satisfaction scores can be a bit unclear. Because: why is someone satisfied or dissatisfied with your video and services?
Open feedback
The more descriptive clients get, the better. That is why we advise to use a combination of scales and open feedback. This gives you a clear rating and the reason 'why', so you have tangible information to build on.
All reviews and other forms of feedback are valuable in order to find out how you are doing. Once someone clicks on a smiley or gives a rating, ask for a motivation by adding a form to the video. This can be a critique, but may also be filled with praise. Remember: all feedback is meant to help you improve.
You can even decide to leave quantitative ratings behind, but the threshold for open feedback is a bit higher. Not everyone will feel the need or have the time to give extensive feedback. So, by combining quantitative and qualitative feedback, you get feedback either way.
"Feedback is the breakfast of champions"
Feedback comes in many shapes, sizes and combinations. Want to know how people feel about your video? Use ratings, such as stars or numbers. Wish to constructively improve your product or service? Ask for extensive written feedback.
Feedback and reviews always fit your (interactive) video and you can customize it to your own taste. The most important thing is to keep asking for input from your customers and viewers. Your services are aimed at them and you wish to make their experience as pleasant as possible.
As Ken Blanchard, American author and management expert, puts it: "Feedback is the breakfast of champions"